Ink pics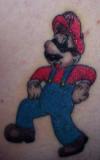 <-back next->
1 to 6 of 6 comments
LeiZero
2011-09-13
\/ yep hahaha
Sean C
2008-05-16
It's a piece-a-crap!
crookshanks
2008-05-11
mario is shorter, he dosnt pose gay like that,and wear sunglasses.
Miguelsbabygirl
2005-06-12
what the hell is his problem lol, that's what i always say when i see someone walking wierd like limping or something and thats what this tat reminded me of
Dream0n83
2005-05-28
too skinny, legs are too long, and what is that above his nose?? a bandit mask?
MiCheLe
2005-05-02
ges too tall and skinny.... looks kinda like luigi in the wrong clothes.
<-back next->