Ink pics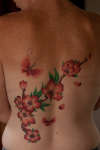 <-back next->
1 to 6 of 6 comments
julie
2009-10-27
very pretty!
linda
2009-10-13
detail is superb, but not too overdone. shading/color are perfect compliment. Kudos to artist, and I love the fact that it tells such a touching story. That's art ;-)
AISHA
2009-10-02
WOW!!! These are beautiful!
soobie
2009-09-12
OMG!! Rock solid. A!!!
jessica
2009-09-05
very beautiful, the artwork and the symbolism
~ Be Be ~ (",)
2009-09-02
I know cherry blossoms r done to death, but this is lovely, the thought & meaning that u put into it is beautiful.
<-back next->