Ink pics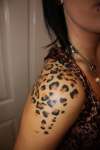 <-back next->
1 to 7 of 7 comments
BlueEyedWolf
2013-02-08
I like it. Nice work.
Ink2thebone
2012-07-18
it's cool but curious how u can make it flow with something else or will you continue it down your arm? the work is good too
XXXTATTOO
2012-07-02
I THINK SOME CREAM WILL HELP CLEAR THAT RASH RIGHT UP
RollerDerbyRosie
2011-11-23
Lush!
~ Be Be ~ (",)
2010-09-07
I like it, it goes great with the one on ya ribs!!
Jose
2010-09-07
LooKs really nice
Steeleagle
2010-09-06
Matches your other ink quite nicely. Great flow!
<-back next->